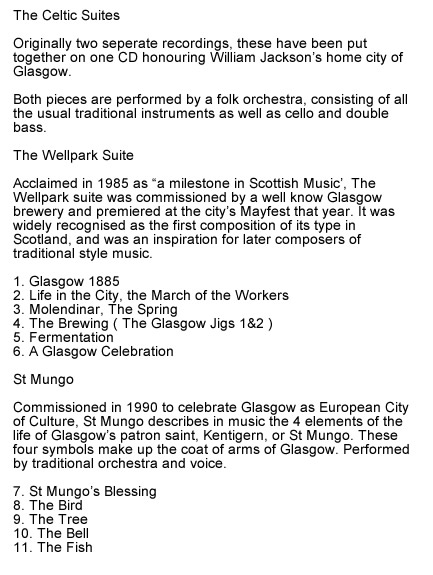 William Jackson has been at the forefront of Scottish traditional music for nearly 30 years. In addition to his stature as one of the leading harpers and multi-instrumentalists in Scotland, William has gained an international reputation as a composer. His "Land of Light" won the international competition in 1999 as the new song for Scotland, announced on the eve of that Parliament convening for the first time in 300 years.
William was a founding member and creative tour de force of Ossian in 1976, which became one of Scotland's best-loved traditional bands. The band, whose music influenced a generation of musicians, extensively toured the U.S. and Europe. Besides harp, he also plays tinwhistle bouzouki and piano.
While working with Ossian, William established himself as a composer and he has steadily knit together Celtic influences with classical instrumentation in a style uniquely his own. He has an impressive list of commissioned works and subsequent recordings, including "The Wellpark Suite," "St. Mungo", and "Inchcolm".