Brass Carved Charcoal Burner with Wooden Coaster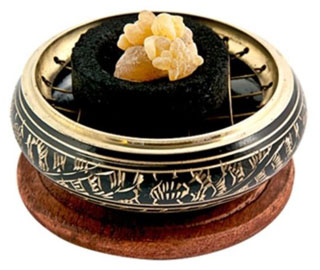 This carved brass charcoal incense burner comes will be a beautiful addition to your sacred space. Crafted with precision and attention to detail, this burner is designed toelevate your incense experience.

Each burner is meticulously carved from high-quality brass, ensuring durability and longevity.

The combination of black and brass lends an air of sophistication to any space, whether it's your meditation room, living room, or office, this burner enhances the ambiance, creating a tranquil atmosphere for your rituals or moments of relaxation.

The intricate carved patterns on the brass surface add a touch of elegance and sophistication. This burner is not only a functional item but also a work of art.

The burner is versatile and practical. It is designed to accommodate various types of incense - resin, cones, or charcoal discs. The removable mesh screen allows for even charcoal burning and safe incense use. Allow the aromatic fragrance to fill your space, creating an immersive experience for your senses.

The burner is easy to clean and maintain. Simply wipe it with a soft cloth.